This tour forum is designed for spoilers. If you're trying to avoid spoilers and you decide to come in here, you're taking your chances, and you enter at your own risk. Obviously, once the tour starts, we all have to be careful about what we post concerning the setlist.
Absolutely no spoiler posts outside of this R40 Tour forum.
But the most important thing is thread titles.
Even if someone chooses to stay out of this forum,
topic titles can be seen from the main page
, so having "They played (whatever song)!" as a title is a bad idea.
No song titles in topic titles!
And that goes for other show details like video clips, what household appliances Geddy is using, etc. No show details in topic titles. We want to avoid this: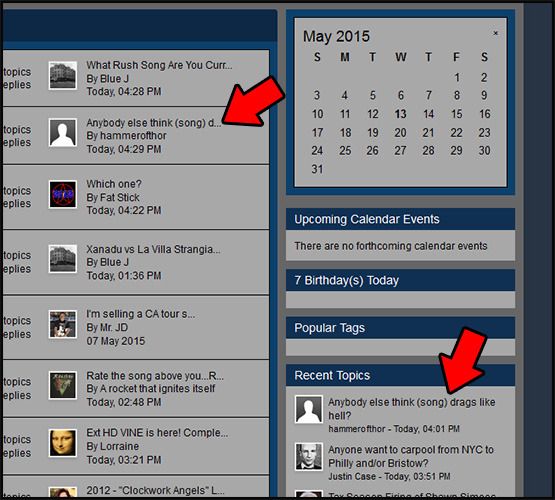 This image shows the thread titles after they were edited -- they originally displayed the actual song title.
Also, please keep song titles and concert photos out of your sigs and profiles.
Lastly, please keep spoilers out of the meetup threads. Those are located in On The Lighted Stage section, and we don't want to spoil things for people who are discussing meetup plans.
Edited by 1-0-0-1-0-0-1, 14 May 2015 - 12:31 AM.