The Time Machine Symbols Revealed
~ by GhostWorks ~
In my research I found almost all of these in comprehensive alchemical symbol dictionaries. Here, then, are the symbols defined by their placement on the gearwheel clock (pictured below).
12 Copper
1 Sulphur
2 Annealing
3 Mercury
4 Winter
5 Zinc
6 Sun
7 Aqua
8 Oil Essence
9 Neptune
10 Gold
11 Earth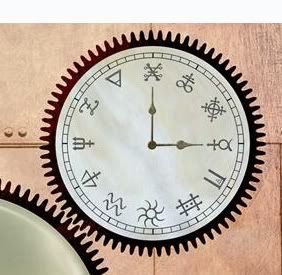 And now, the details:
12 O'Clock
> Copper
The elemental alchemy symbol for copper is also the planetary symbol for Venus. As such, this symbol embodies such characteristics as love, balance, feminine beauty, and artistic creativity.
source > http://www.whats-your-sign.com/elemental-a...my-symbols.html
1 O'Clock
> Sulphur
Inside gold is the alchemical Sun. Inside the Sun is an active substance, sulfur. Sometimes alchemists equal sulfur with the Sun. Sulfur is the spirit of life. Sulfur is of a two-fold nature: white and red sulfur. White sulfur is the substance of the Great Work at the phase of Whiteness, and red sulfur at the stage of redness.
In general sulfur is the symbol for the active principle in the Great Work.
source > http://www.soul-guidance.com/houseofthesun/alchemy_5.htm
2 O'Clock
> Annealing
Purification by fire
source > http://www.purplehell.com/riddletools/alchemy.htm
Also of note: Geddy Lee (Leo) - Leo's element is fire
3 O'Clock
> Mercury
...alchemists would heat elemental mercury with nitric acid to prepare mercuric oxide. The reaction produced a thick red vapor which hovered over the surface of the solution, while the mercuric oxide precipitated and fell to the bottom of the liquid in the form of bright red crystals. Mercury was believed to transcend the liquid and solid states. The belief carried over into other areas, as mercury was thought to transcend life/death and heaven/earth.
source > http://chemistry.about.com/od/alchemicalsy...a/alchemyhg.htm
Also of note: Mercury is the ruling planet of Virgo (both Alex Lifeson and Neil Peart are Virgos)
4 O'Clock
> Winter
An old Germanic time sign for winter...
source > http://www.symbols.com/encyclopedia/06/0615.html
5 O'Clock
> Zinc (AL)
Philosophers' wool, or nix alba (white snow) was zinc oxide made by burning zinc in air.
source > http://www.ancient-symbols.com/alchemy_symbols.html
6 O'Clock
> Sun
(or Gold*)
Often interchangeable - many reference guides show multiple symbols for both and/or same symbols with either name. I'm assuming Sun is what was intended in this case, as Gold is assuredly the 10 O' Clock symbol.
- gw
Also of note: Geddy Lee (Leo) - Leo's ruling 'planet' is the Sun
7 O'Clock
> Aqua
or Aquarius
Water, of course.
8 O'Clock
> Oil Essence
Spagyric is a name given to the production of herbal medicines using alchemical procedures. These procedures involve fermentation, distillation and the extraction of mineral components from the ash of the plant. These processes were in use in medieval alchemy generally for the separation and purification of metals from ores (see Calcination), and salts from brines and other aqueous solutions.
source > http://en.wikipedia.org/wiki/Spagyric
9 O'Clock
> Neptune
(also Nirvana)
Neptune, the planet of deception and spiritual enlightenment, rules the oppressed and abandoned: the misfits of society. On a higher level he rules visionaries, and those who are glamorous and charismatic. Neptune represents spirituality, mysticism, and ideals.
source > http://www.astrologycom.com/neptune.html
Also: ...Neptune is also supposed to rule plants used for the purpose of intoxication, such as Indian hemp, i.e. marijuana, the coca bush, the opium poppy, the peyote cactus, and the psilocybine mushroom. Anatomically thy symbol rules such bodily functions as the pineal glands and those parts of the nervous system that are sensitive to psychic impulses and related to the aura.
Everything with boundaries that are in one way or another undefined or unclear is ruled by this planet, for instance, gases, dreams, fantasy, vague hunches, etc. It is the symbol for escapism, drug intoxication, and glamour, as well as for high ideals and ideal love.
source > http://www.symbols.com/encyclopedia/05/057.html
10 O'Clock
> Gold
Gold is one of the seven metals of alchemy (gold, silver, mercury, copper, lead, iron & tin). For the alchemist, it represented the perfection of all matter on any level, including that of the mind, spirit, and soul. The symbol for gold could also be used to represent the sun in astrology.
source > http://www.alchemylab.com/dictionary.htm
11 O'Clock
> Earth
Earth is one of the Four Elements of alchemy. Earth in the alchemical sense carries the archetypal properties of manifestation, birth, and material creation.
source > www.alchemylab.com/dictionary.htm
...earth was associated with dry, cold, and melancholy.
http://chemistry.abo...hemy-Symbol.htm

Also of note: both Alex Lifeson and Neil Peart are Virgos - Virgo's element is Earth

And:
The symbol in the Rush logo itself (the letter 'U') is actually the alchemical symbol for Amalgamation.
"a mixture, merger or consolidation" and "amalgamation combines mercury and another element..."
Also of note: Mercury = Virgo = Peart & Lifeson and Sun = Leo = Lee
(so another nod to the 'togetherness' of the band etc.)
... you're welcome.
Edited by ghostworks, 09 April 2010 - 06:49 PM.