On behalf of the administrators of The Rush Forum, I hereby present the eighth Solar Federalist Badge to
Alsgalpal
...we salute you, AGP...you may be Al's imaginary friend, but you're a REAL sweetheart to us! Whether championing the cause of LURVE in Random Samples, swooning over Al in the Sisterhood Forum, or just giving us one lleh of a laugh, you are an integral part of TRF, and we're so glad you've made this your Rush home.
AGP, you have assumed control...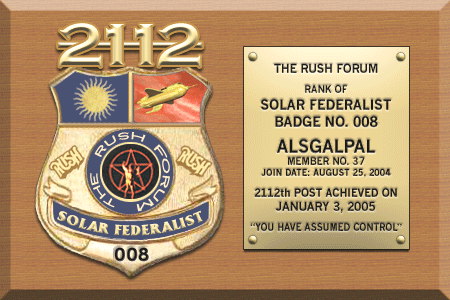 ...of
The Rush Forum's Solar Federalist Badge Number 008
...keep us laughing our blinks off, keep being a wonderful mom and friend, and stay the strong, independent woman we have come to know and love.
Congratulations!