On behalf of the administrators of
The Rush Forum
, I hereby present the 83rd Solar Federalist badge to
Bastille Night
...Let them eat cake! At night?
Bastille's posts are almost always funny, and being a huge Monty Python and Simpsons fan, that's not a surprise. I'm guessing the regular intake of beer (and coffee) is also a contributing factor.
BN is a HUGE Rush fan, and there isn't a forum here at TRF that he hasn't felt right at home in. In fact, he was just seen streaking through Grand Designs!
Bastille, you have assumed control....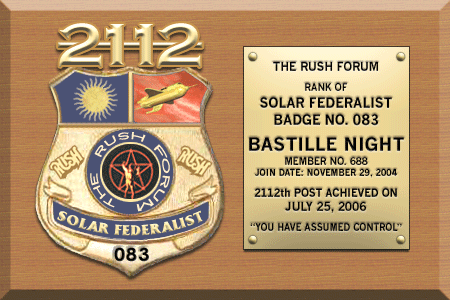 ...of
The Rush Forum's Solar Federalist badge no. 083
...
Congratulations!