The Time Machine
is the 2nd single from
Skeptosphere
, featuring Mark Zonder (ex-Fates Warning) on drums.  Mixed by Grammy award winning engineer Phil Magnotti. The project is rounded out by two cool guys from Brazil and one hoser from Canada.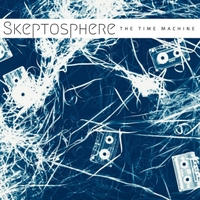 Official video:
Spotify:
https://open.spotify...tMiOEUdQ85HjMFL
iTunes:
https://itunes.apple...ngle/1420631133
CD Baby:
https://store.cdbaby...d/skeptosphere2
Skeptosphere is:
Alex Tamulis – Vocals, bass
Paul Holloway – Rhythm guitars, keys
Alexandre Monari – Lead guitar
Mark Zonder – Drums
The Time Machine
is the followup to the debut single,
Crash and Burn
released earlier in 2018. Skeptosphere will release two more singles in 2018 and package all four as an EP.
By the way, any of you musician-types interested in hiring a drummer should REALLY give Mark a call (www.markzonder.com). Not only is his drumming outstanding (and he plays on our third song too!) but he is a heckuva nice guy, very friendly and accommodating and really listens to the composition. His drum work was so good, we re-tooled everything to try to bring it up to his level. No big ego stuff, and just an absolute pleasure to work with.